Update Data Science Meet & Greet
Update Data Science Meet & Greet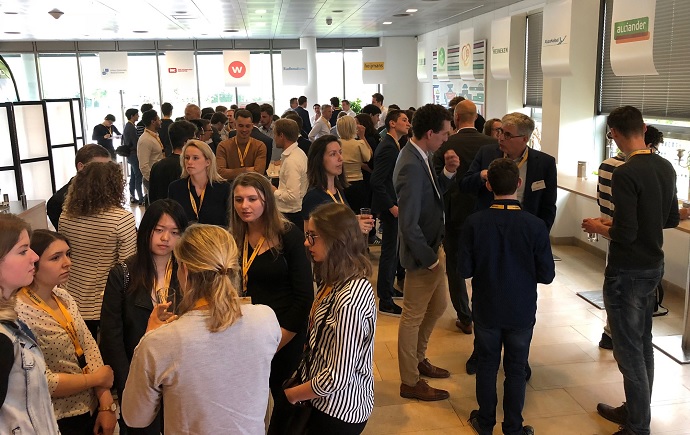 woensdag 14 november 2018

10:18
Op woensdag 21 november 2018 organiseren wij de Data Science Meet & Greet. 13 lid-organisaties maken dan kennis met 170 IT-studenten en vice versa.
De voorbereidingen zijn al een tijdje in volle gang. De deelnemende lidorganisaties bereiden zich deze weken voor op hun 10 minuten pitch die de studenten een goed beeld van de dagelijkse praktijk op het gebied data science gaat geven. Hét event dat de dagelijkse praktijk en het onderwijs dichter bij elkaar brengt!

Grote belangstelling
De belangstelling vanuit de studenten is overweldigend. 170 Studenten hebben zich ingeschreven om deel te nemen aan de Meet & Greet! Zelfs vanuit Maastricht en Groningen staan er enthousiaste studenten op de deelnemerslijst. Allen met als motivatie de dagelijkse bezigheden van een data scientist, werkzaam bij een grote corporate, te ontdekken én om contacten te leggen voor een mogelijke 1e baan, afstudeeropdracht of traineeship.

In één middag maken de studenten kennis met de volgende 13 leden van het CIO Platform Nederland:

Iedere organisatie zal op 21 november een pitch verzorgen, hierbij alvast een indruk van de diversiteit aan onderwerpen:
ANWB: "Data Science helps 4,5 million members on the road, carefree and with fun."
CZ: "Life as a Data Scientist at CZ: from data driven customer service, fraud detection to care pathways."
Nederlandse Spoorwegen: "With data, the Data & Analytics department helps the Nederlandse Spoorwegen in their further growth towards a data driven organization. To work on a timetable without disruptions, and an excellent service for our traveller. During our pitch, come and listen how our data scientists and data engineers can make a difference in this."
Gemeente Rotterdam: "Data science in Gemeente Rotterdam: Learning curve prediction with sparse data."
Heineken: "Data driven beer: how Heineken generates value using data science across the world."
Leaseplan: "Join our talk to know how LeasePlan uses Data Science & Machine Learning to better manage a fleet of 1.7 Million cars in over 30 countries, and to deliver its vision of 'Any car, Anytime, Anywhere', while also defining 'What's next' in the future of mobility!"
Philips: "Harder, Better, Stronger, Faster".
Pon: "Making Pon the smartest trading and service company in the world."
ProRail: "From a progressive IT strategy to successful implementation: How data science found its place between large chunks of steel at ProRail."
RET: "Take a journey with RET: how data drives valuable connections. How checking in with your OV chipcard supports insight into track maintenance."
Stedin: "Working together to create a world full of new energy."
Universiteit Utrecht: "Universiteit Utrecht is the place of bright minds and big data. Together we create a better future."
VIVAT: "Working with data within a dynamic Dutch top 5 insurance company on fraud detection, customer lifetime value, churn models, process mining, etc. Creating value with data is one of our top strategic themes. We have a lively internal data science community where we share knowledge and support each other. We work closely together with 4 top universities in the Netherlands."
Voor wie?
Bachelor en Master IT studenten die een carrière willen starten in data science zijn van harte welkom. Het is niet persé noodzakelijk dat de studenten een data science opleiding volgen. Uiteraard is een bovenmatige interesse in data science/data analytics een belangrijk criterium.
Aanmelden en meer praktische informatie
Op 14 november is de registratieperiode voor studenten gesloten. De voertaal tijdens het event is Engels. Locatie: Universiteit Utrecht, Science Park, Utrecht. Via deze pagina zijn alle overige details over de Meet & Greet terug te vinden.
Eventuele vragen kun je stellen via bureau@cio-platform.nl.