Looking back at the CIOPN Annual Day 2022
Looking back at the CIOPN Annual Day 2022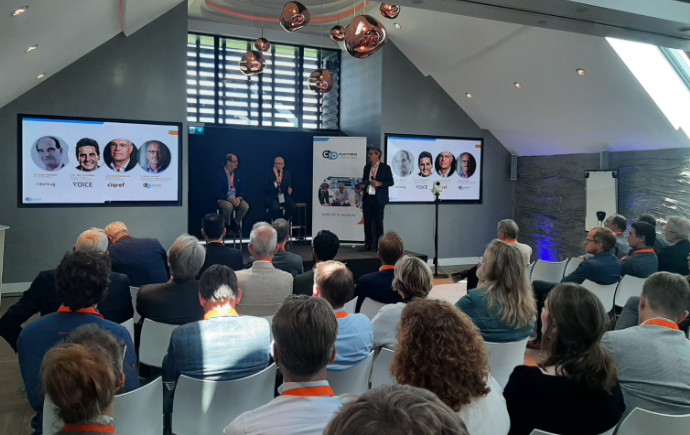 Monday 13 June 2022
On Thursday 9 June, the CIOPN Annual Day took place at a beautiful location with similar weather. Under the slogan: ''Polder IT, from discussing to doing'', the annual day offered many opportunities to gain practical advice and/or ideas via various inspiring speakers, active sessions and, of course, personal interaction.
The kick-off was given by Director Ronald Verbeek and departing President Arthur Govaert. As part of the opening, there was also a message from Minister Alexandra van Huffelen. She called on the members to (continue to) participate in the discussions on digitisation and to provide her with input.
Subsequently, it was time for the first keynote speaker. Henk Breukink (executive & board coach, chairman and supervisory board member) gave an illuminating presentation about the right combination of drives and activities of both individuals and organisations and the role of leadership in this.

In a panel discussion with the European sister associations from Belgium (Beltug), France (Cigref) and Germany (Voice), we delved further into the developments in European regulations and the crucial role of CIOs. As Bernard Duverneuil (Cigref) added: ''It is a long process, but we can definitely say that we finally provide valuable input with our unique and powerful voice.'' Finally, Robert Stuyt, partner at Brabers, emphasised the necessity and value of the perspective of CIOs in decisions at a political level and the results that that has already produced over the past year.
Besides the coffee, we also received an extra boost of energy and motivation after the break with an energetic performance by BoomChicago. In their own unique way, the comedy group brought a comical reflection on the association and the roles of, for example, the CIOs and CISOs. With this boost of energy, the participants moved on to a variety of breakouts in two rounds. Many of the subjects that are currently important within the association were dealt with in the twelve break-outs and provided our members more in-depth knowledge and necessary tangible examples.
During the second plenary round, we were inspired by Catheleyne Everwijn-van Erp. She explained to keep sharing your story as a CIO and as a person and to take others with you in this. By doing so, you release energy that enables everyone to continue to bring value to the organisation, 'Tapping into the quantum power of you!'.
Finally, after the transfer of presidency (see previous news item), the beautiful location and the weather provided sufficient opportunity to finish off with a bite to eat and a drink and a pleasant conversation. We have thoroughly enjoyed the positive atmosphere.
We thank all participants and speakers for a successful Annual Day! In addition, a big thank you to the Annual Day committee, Michel van Hout (CIO Dutch Flower Group), Mirjam Verhoeven (CIO VGZ), Michiel Valk (CIO Essent) and Martin Hoff (CIO EBN), who helped shape the day. We look back on a very successful event in which we were able to inspire and motivate each other to take the next step.