Break-out sessie: In gesprek met Oscar Kneppers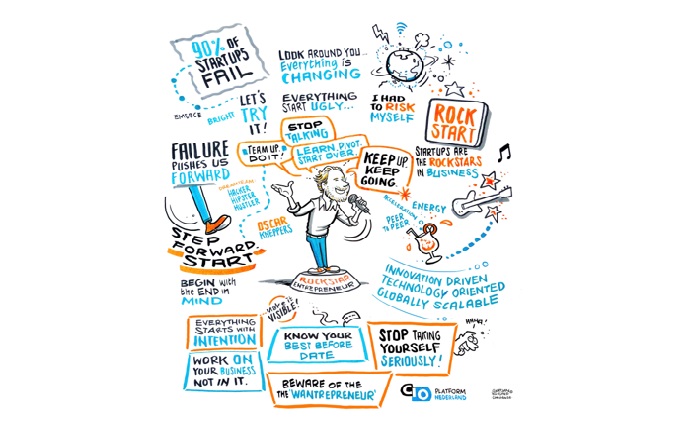 6/24/19, 3:00 PM

6/24/19, 3:00 PM
Als follow up van zijn plenaire presentatie was de ruimte geboden om in gesprek te gaan.
Diverse deelnemers maakten daarvan gebruik, waarbij Oscar aangaf open te staan voor beantwoorden van vragen ook offline. Belangrijkste tip voor corporates die iets mee willen krijgen van de energie, innovatieve ideeën en veranderlust van startups: zorg voor een startup-liaison, iemand of een loket dat op jouw website vindbaar is voor startups die goede ideeën voor jou hebben.
Om de eigen logge organisatie in beweging te krijgen helpt het om deuren open te zetten en mensen in hun werkpakket ruimte te geven om bij andere afdelingen te gaan kijken, en dan niet even op een innovatieochtend, maar voor wat langere tijd of enkele weken achter elkaar. Denk aan de Google-aanpak van 20% tijd voor creativiteit.
Probeer innovatie niet teveel aan kaders te binden waarbinnen het relevant is voor jouw organisatie. Dat belemmert creativiteit en vaak weet je nog helemaal niet wat interessant kan worden. Gebruik al helemaal geen consultants om dergelijke kaders op te stellen. Die zijn vaak verre van creatief en door de consultancy kosten wordt het alleen maar moeilijker om een positief resultaat te halen.
Link naar zijn plenaire presentatie.