Digital security: "The chain is only as strong as its weakest link"
Digital security: "The chain is only as strong as its weakest link"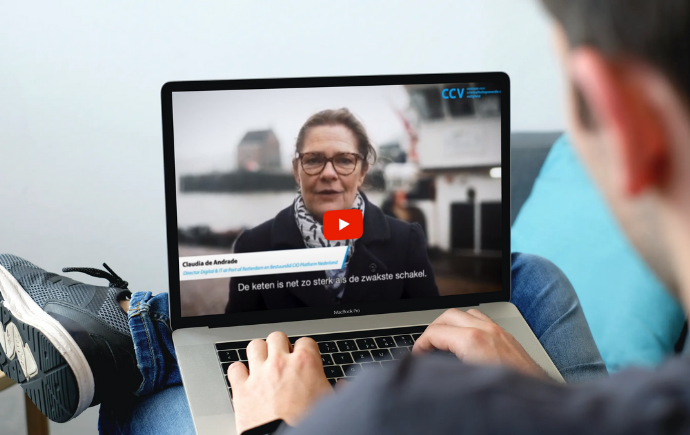 Monday 08 March 2021
"With more than 4,000 parties working closely together in the logistics chain, it is becoming increasingly important to be incredibly well aligned. Not only on a physical level, but also on a digital level. Investing in cyber security is therefore necessary in order to be a reliable partner in this logistics chain." Was said by Claudia de Andrade de Wit, Director Digital & IT at the Port of Rotterdam and chair CC Information Security at CIO Platform Nederland.
Small and medium-sized enterprises (SMEs) form an important link in the chains of the members of CIO Platform Nederland. Digitally, everything is becoming increasingly connected and interdependent. With the increasing role of SMEs, they are also becoming increasingly attractive to cyber criminals. Every cyber incident can have major consequences in these chains. Many SME entrepreneurs still lack the knowledge to get their digital security in order. In this short video (Dutch) Claudia talks about the importance of safe cooperation in the chain, "The chain is as strong as its weakest link":
CIO Platform Nederland has joined forces with other parties, under the direction of the Centrum van Criminaliteitspreventie en Veiligheid (CCV) (Centre for Crime Prevention and Security), to make SMEs more resilient to cyber attacks in the form of the Risk Classification Digital Security. Based on 11 questions, an estimate is made of the risk of a cyber incident. This assessment determines which risk class (1 to 4) a company is classified in and which measures must be taken in order to put digital safety in order. Given the social importance and the role that the Digital Trust Center in particular plays, the development of the toolkit was financed by the government. The tool has been added to the toolkit of the Digital Trust Center (Dutch).

With the Risk Classification Digital Security, a useful tool has become available to objectively map digital risks and link them to appropriate security measures. We advise everyone to discuss this with the collaboration partners in your chain and help them to become more resilient to cyber attacks.
Claudia: "The Risk Classification Digital Safety is a very suitable tool for this.