Will you join our members as a senior policy officer?
Will you join our members as a senior policy officer?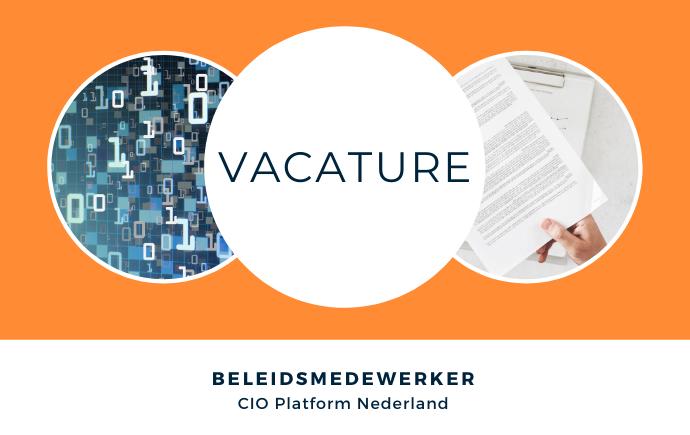 Wednesday 10 May 2023
Are you good at analyzing digital developments, do you see opportunities or risks and are you able to put them into words so that targeted actions emerge? CIO Platform Nederland is looking for a senior policy officer to help us fulfill our role towards members and in the social domain even better.
The world is changing rapidly and digital technologies form an increasingly important basis for our social and economic development. Keeping an eye on the rapidly developing technologies and their application, the processing of large amounts of data and the right composition of knowledge and forms of collaboration to deal with this and thus serve the customer, citizen, patient, student, etc. in a modern way, is complex. In addition, the framework of regulations that must be met is evolving rapidly.

This also increases the need for knowledge about the legal and practical implications of technology choices. Transforming existing organizations and production processes into modern versions of themselves does not happen automatically. What helps is to learn from comparable organizations how they do it, what they encounter and what their lessons are. CIO Platform Nederland is the perfect community for that, we are the association of Chief Information Officers, Chief Digital Officers and other persons ultimately responsible for the digital transformation at large Dutch organizations and companies. And you can contribute to this, as a senior policy officer at our agency.

CIO Platform Nederland has been around for 18 years and is growing steadily. Our association now has more than 130 members. Under the influence of increasing digitalization, the need for knowledge exchange within our network is growing strongly. The number of questions from outside about how CIOs and CDOs view certain developments is also increasing. Finally, we are strengthening cooperation with colleagues in other European countries, with the aim of making the voice of the business user heard at the European Commission and international suppliers. In order to be able to handle all this extra work and to be well prepared to play our role towards our members and towards political and social organisations, we are looking for reinforcements for our office.
Do you have extensive experience in policy preparation or public affairs roles? Are you good at analyzing developments in the economy and society as a result of digital technology, do you see opportunities or risks and can you properly classify them so that targeted action arises? Do you enjoy collecting wishes, experiences and other input from a broad network and processing them into a point of view and also successfully introducing them in consultation with other stakeholders at senior level? Then you might be the one we're looking for, look further in the profile sketch (in Dutch) for more details and contact information. Isn't it for you, but do you know someone who fits our needs? Please forward this article.