Networking dinner Sligro "a digital food experience"
Networking dinner Sligro "a digital food experience"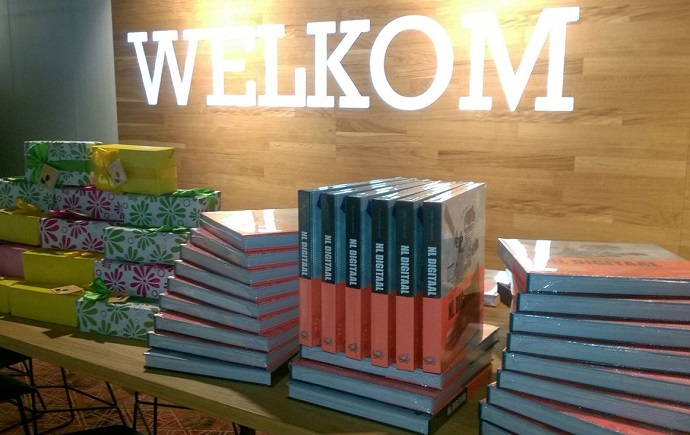 Friday 17 February 2017
On February 14th, the first networking dinner of 2017 was hosted by Sligro Food Group in Veghel. In the beautiful and inspiring "Inspirationlab ZiN" we were welcomed by Maurice van Veghel, CIO of Sligro Food Group. ZiN is specially shaped to enjoy culinary and realize valuable meetings!
The first part of the program was spend on the developments within the CIO Platform Nederland association. In 2016 we have contributed to the publication NL DIGITAAL. Goal of the publication is to make the students in secondary school more aware of career opportunities in IT and also help members of the board of directors and/or commissioners be more aware of the opportunities and challenges IT has to offer. Besides the publication of NL DIGITAAL, the CIO Platform Nederland collaborates with some interesting initiatives, among which a manifesto for a sustainable society, a save e-mail coalition and GeefITDoor. We are still looking for collaboration with SME's on our themes. Ideas are more than welcome!
We have also shared the concept program of our Annual Day 2017 with the attendees. The guest speakers are being approached as we speak. As closing of this part of the program, we had a good discussion on what a CDO means and the recruitment of IT skills.
Maurice continued the program with a beautiful metaphor – about a plane to Dubai, instead of a minivan to Italy – which indicated the fierce transformation of Sligro. He also asked an interesting mix of colleagues from inside and outside his team to take us on the journey of different challenges in the foodservice branch and how Sligro copes with these challenges. A great example is that Sligro sticks to the B2B market, but helps think with the buyer about how to seduce and bind the customers to the diversified assortment. There was also attention for the speed of ordering online, the self-service BI portals (which give insight in the margins and waste) and the data driven strategy of the 130 Emté supermarkets. Of the last, some insights were shared regarding the possibilities of customer data, how it is enhanced and with what ease it can contribute to added value for the customers, which binds them to the stores.
The reminisce of a great session took place during a culinary walking dinner. The dishes were made on the spot and were beautifully decorated. Even the chefs were asked lots of questions while they were cooking! Our meeting with our members was valuable once again, Maurice and team: thank you!