SURF officially takes over the Elevator Game
SURF officially takes over the Elevator Game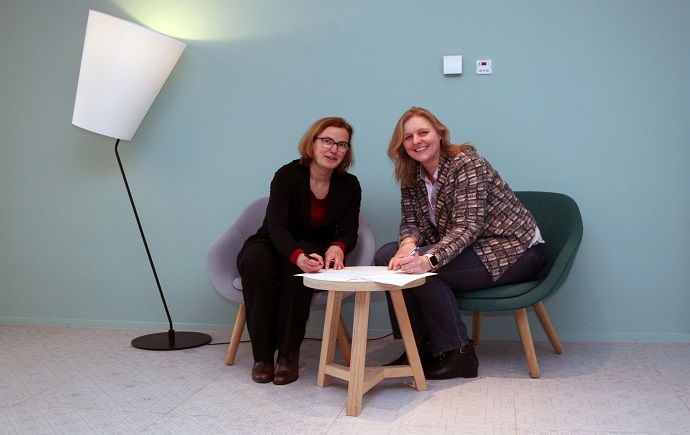 Thursday 15 February 2018
On the 13th of February the CIO Platform Nederland officially handed over the Elevator Game to SURF. Elevator is a game for the mobile telephone to improve the awareness for information security of your organization. The Elevator Game is offered by Cybersave Yourself to all institutions connected to SURF.
Awareness of cybersecurity in a playful way
Started in 2015, the Elevator game is developed by the CIO Platform Nederland and IJsfontein. The goal of this game is to recognize the risks and to become alert for strange things, together with colleagues. By doing this it is possible to learn in a playful way about phishing, social media, passwords and personal responsibility. If you solve the puzzle together you will reach the elevator to the next level. The game has three levels.

Part of CSY
De Elevator Game is part of the Cybersave Yourself service of SURF and can be played for free by the connected institutions of SURF. During the SURF Security- and Privacy conference, the participants wer able to get an introduction of the Elevator Game by playing the game together with a colleague.

Official transfer
Late last year, the game already was transferred, so it could be set up and released again under the wings of SURF. After a period of testing it now is possible for the institutions to play the game. Last Tuesday the final signatures were put on paper, by doing this the Elevator game officially now is the property of SURF. On behalf of the CIO Platform Nederland, the official contract was signed by Janet Cadel (program coordinator) and Floor Jas (division manager Trust & Security) on behalf of SURF. Hereby the Elevator game is also an official part of Cybersave Yourself.

Play yourself
Employers and/or students of the institutions connected to SURF are able to play the game by contacting Cybersave Yourself via info@cybersaveyourself.nl. Please mention who are your game masters. The game masters are responsible for the management of the game at their institution and decide who can play the game.

More info about this transfer your can read in this the article 'Elevator Game transferred to SURF'.
Source: www.surf.nl
Photo: Floor Jas (SURF, left) and Janet Cadel (CIO Platform Nederland, right) signing the official documents (credits photo: Remco Poortinga, SURF)