New Chairman CIO Platform Nederland
New Chairman CIO Platform Nederland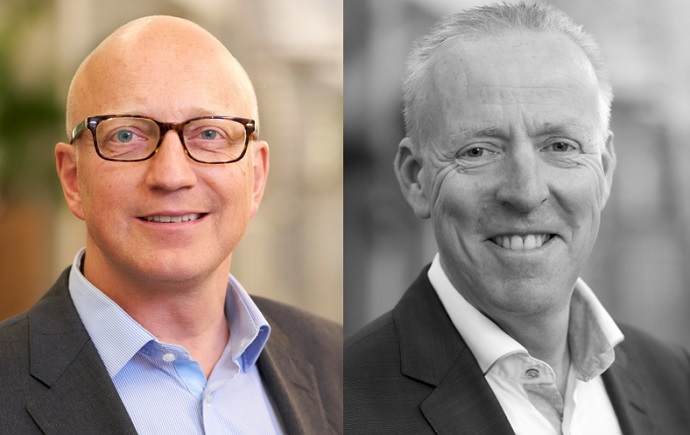 Thursday 14 June 2018
From today Arthur Govaert (CIO Radboudumc) is the new chairman of the CIO Platform Nederland. Arthur successes Marcel Krom (CIO PostNL) who has fulfilled this role for four years and came to the end of his term.
The appointment of the new chairmanship took place during the Annual Day 2018 of the CIO Platform Nederland. The CIO Platform Nederland looks back on flourishing years led by Marcel, in which he worked hard to increase the connection between the members, was always ready to let CxO colleagues take a look inside PostNL and stimulated his own employees always to actively join the network. Marcel is a board member and will remain active on behalf of the CIO Platform Nederland in the Cyber Security Council.

Marcel Krom: "The digitalization that is currently taking place ensures that IT is in the last 4 years, at the top of the management agenda, with our members. The CIO Platform Nederland connects the member organizations, while we are learning in a safe environment. In the field of IT, but also especially on digitalization. The strategy of companies depends largely on the effects of this digitalization. Sharing these insights is and remains the greatest value of our network."

In addition, during the Annual Day we've got a glance in the future with Arthur as a chairman. Attracting new members and creating more value for existing members and their employees will be the central theme.

Arthur Govaert: "The CIO Platform Nederland has grown tremendously in recent years as an association. As CIO or CDO of private and public organizations we are fundamental in the transition that many companies are going through. We support each other in this transition and share best practices. In addition, as an association we are increasingly seen as the 'digital conscience', which means that we often speak in strategic discussions at national and European level. It is therefore an honour to be elected as chairman. Together with the board and the bureau, I will continue to strengthen cohesion within the CIO Platform Nederland and to profile ourselves as a digital compass in the digital transition that companies are going through in the Netherlands. Because we believe that.... We make digital work!"